!Copyright 1997 Inter-Active Arts> <!All Rights Reserved>
L.A. County Fire Department S.C.U. (dispatch) tone archive
---

Dedicated to the fans of the television show "Emergency"
Last Update - 10/09/2008
---
For years I've noticed that there is no archive on the Internet for the actual tones used for dispatching by the L.A. County FD during the 1970's other then a few WAV files taken from the Emergency television show. The actual dispatch tones (called SCU tones) are highly popular, however the information has not been available until now for a archival quality reproduction of the 1970's tones. The 1990's tones are now available on another webpage, these tones were taken directly off one of the actual Zetron encoders used by L.A. County. To listen to or download the 1990's tones, point your browser to http://www.lacountyfire.com and follow the menus from there. These are good quality tones, however they are representative of the end life of the SCU system in the last few years it was in service. If you listen to both sets of tones, you will see the 1970's tones DO sound different, even though it's the same alerting methodology being used.
I obtained the actual L.A. County FD tone listing for the station tones (the tones in-use at the time of the system's termination in 1997) from the L.A. County Fire Museum Association. Just as a sidenote on how this project started, I acquired an actual Motorola T1251A encoder in 2002 (first unit pictured on this page) and I have one day the goal of restoring the unit. It's pictured here in it's current condition. It just happened to be a tone series "Z" unit, and when restoration is complete I thought it would be neat to be able to demo the unit for visitors with actual L.A. County tones.
To use the encoder, the dispatcher would depress two of the alpha buttons in the first row, two of the alpha buttons in the second row, then the "code start" key. This is why QC1 always has a four letter code (example - KPGJ) instead of a numerical code. Also you can invert the code, KPGJ is the same code as PKJG! Same buttons get pushed either way...
Additionally, just some trivia, during the Emergency episodes there were different tones sounded for "Engine" or "Station 51" and for "Squad 51". The tone that was used for the engine/station was the tone for Station 22. The tone that was used for the Squad is the tone for Station 50 (which at the time was the tone assigned to Station 32). The SCU units were becoming difficult to maintain, accordingly as equipment would break or become unusable, tones were sometimes "reused" for other stations when they could be reassigned. Thanks to Al "Action" Jackson, L.A. County FD Communications for that neat piece of information!!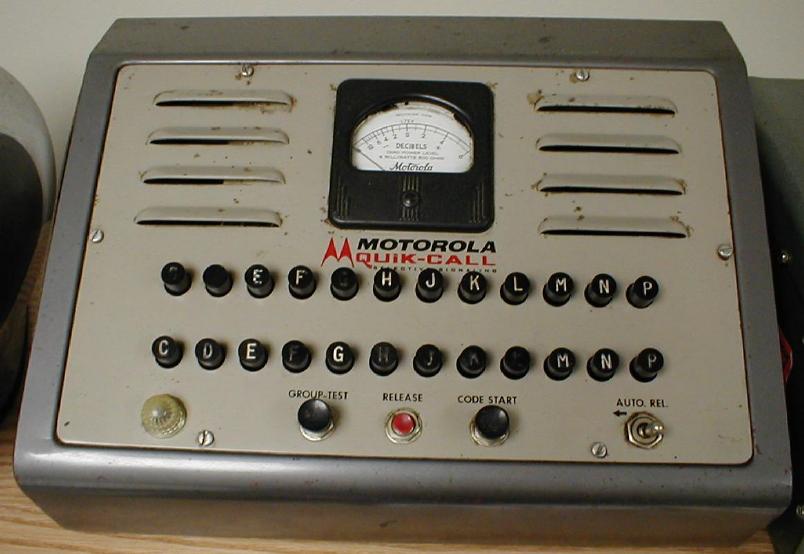 Here are some shots of the same style paging equipment that was used by LA County FD. To page either one station or a series of stations, the dispatcher would depress button(s) on the "preselector" console that is preset to activate each of the individual stations. The preselector hooks into the encoder (tone generator) via a big plug and multi-conductor cable. The preselector console saved a lot of time in punching up the four letter code for each station as they could be pre-programmed into the unit. Multiple stations could be alerted quite easily using the preselector console. Also this front panel was available in LA as a backup should it be necessary to manually alert a station, although mostly the dispatcher used the preselector. On another website there is a picture of Mr. Sam Lanier (who was the dispatcher in all the Emergency shows), the picture shows Mr. Lanier dispatching in the late 1960's, and in the background is one of these encoders.
The following pictures came courtesy of Tim Bell, Montgomery Co MD, FD and Mr. Larry Gaddis (pictures used with permission). His FD (circa 1981) also used QC1 alerting. One day he ran into the encoding equipment pictured here at a hamfest which he purchased & saved. This equipment is now preserved in a private collection. This is the ONLY example I have ever seen of the preselector console except for video from an Emergency episode. I'm glad someone saved one for posterity!!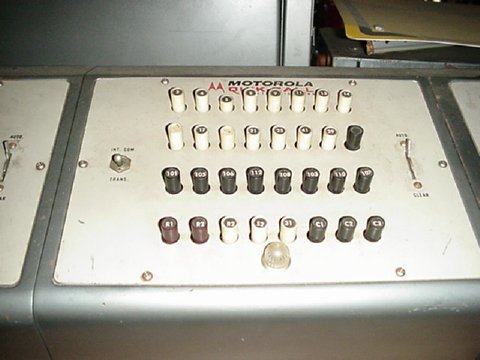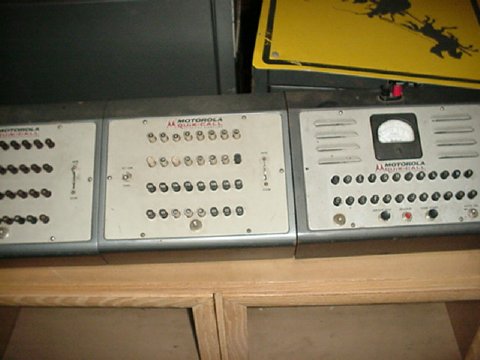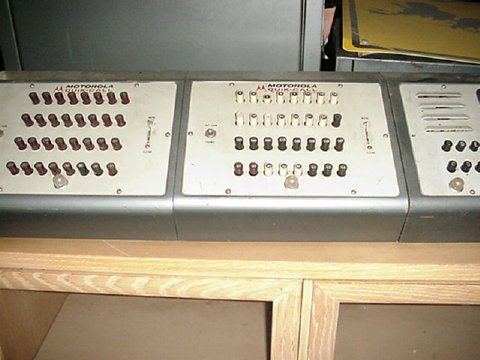 The following pictures came courtesy of "J.B., an old LA County Fire Buff" (pictures used with permission) and represent a view of the LA County Fire communications center in early 1982. One shot clearly shows the Quik-Call encoding setup. Looks like the dispatcher was caught in the middle of his lunch hour, I can remember back how many times groups & people touring came through my dispatch center and I had my lunch spread out. It's interesting that in the shot of the encoders that there is also apparently a GE Type 99 encoder installed with the Quik-Call gear. I found out from another website viewer that this encoder was used to page the on-duty Batallion Chief. Interesting mix of technology...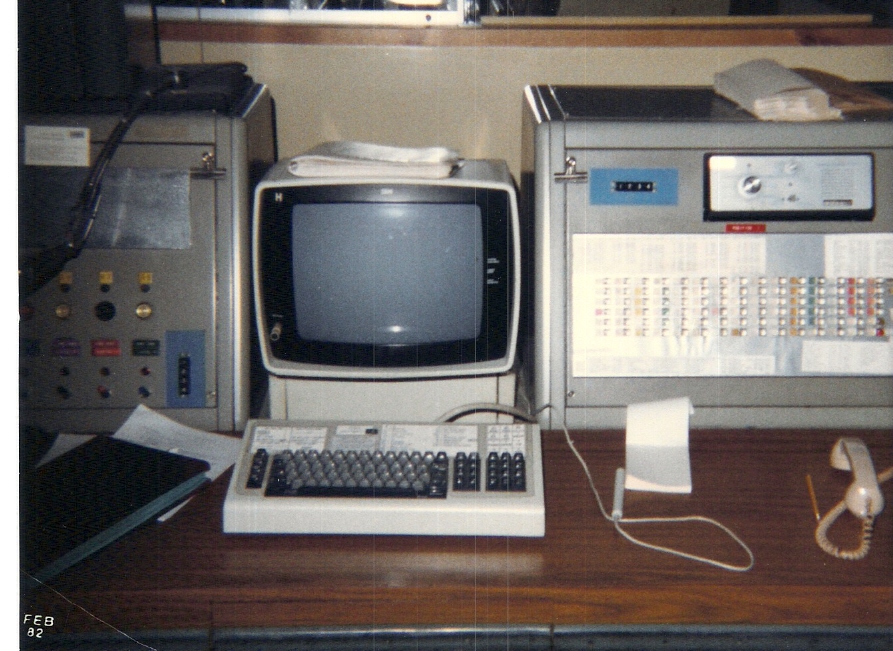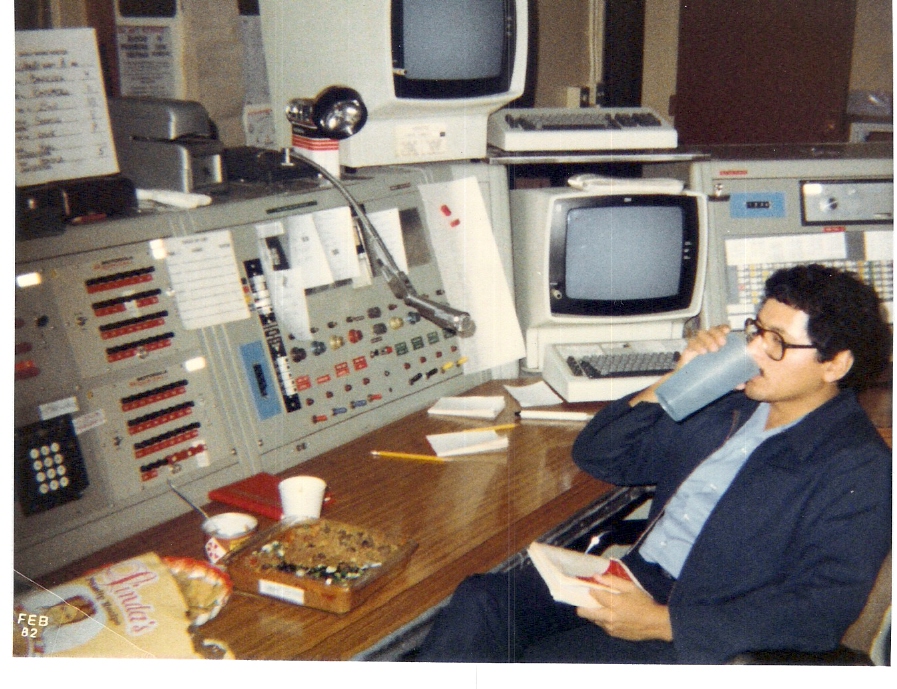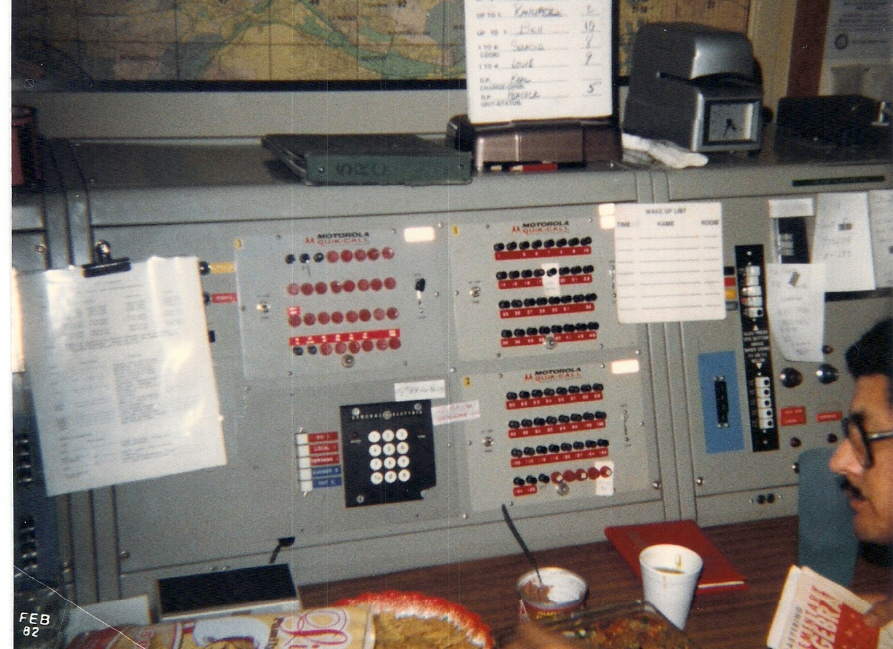 To reproduce the station tones for this page, I used a Zetron Model 25 encoder played through a radio (RF) control station. The tones were then recorded directly into a computer "off-air" from a scanner. The tones were then digitized into WAV format using Goldwave 4.26.
A few facts on the tones listed here - LA County used the Motorola Quik-Call I dispatch encoding method until 1997. The original Quik-Call encoders were replaced sometime in the late 1980's with the Zetron Model 25. Motorola Quik-Call encoders were dependent on vacuum tubes and "Vibra-sender" reeds and were a pain on the maintenance end (see above). I used Goldwave 4.26 (a wonderful shareware sound file editor) to duplicate both the tone timing & tone intervals, these parameters were set into the Model 25 used to reproduce the tones. Also it's been reliably reported that L.A. County transmitted the Quik-Call tones during the 1970's at between 6 and 8 khz deviation. Accordingly the tones sound rather unique, and in order to assure an accurate reproduction you must slightly overdrive the tones for maximum effect. Also, another website user wrote me that "You've no doubt noticed that the audio signal which the (encoder) produces sounds different than that produced by any other QC tone generator. The reason is that all 12 reeds of the (encoder) vibrate at a low level (what Motorola refers to as "bleed through") during a 4-tone transmittal, giving a multi-chord-like sound. In fact, those 12 reeds vibrate continuously as soon as you power up the encoder, but the speaker is muted so you don't readily hear them."
I've also had a few requests for the Zetron alert tones as produced by the Model 25. Even though it's not really QC1 related, L.A. County DID use Model 25's so I am including these selectable alert tones on the page. I can't tell you how they were used or if they were even used at all during LA's dispatch operations, just that they were available in the encoder if the dispatcher wanted to use them and knew how to access the codes to activate them.
L.A. County used Tone Group "Z" within Quik-Call I. Tone timing (taken from a series of multiple WAV files sent during an "Emergency" episode and later analyzed) is set as follows: Tone A/B on - 800 ms. Gap - 175 ms. Tone C/D on - 850 ms. Delay until next call transmitted when calls "stacked" - 750 ms. This exactly duplicates the tone timing from the old L.A. County Quik-Call I encoding setup used during the "Emergency" TV episodes. 5 seconds on all group calls.
You will notice a four group letter code after the station number, this is the actual Quik-Call I tone code for the station if you want to have a stab at creating your own tones. I was told by one LA County person that some of my tone codes were inverted (example - PKPK vs. KPKP group call). I will correct these as I find them. However, it doesn't matter for the tones themselves as it's the exact SAME TONE!!! The only way to get the code list exactly correct is to see a copy of the 1970's tone list in the correct QC1 format so I know how LA listed the tones. If anyone out there has a copy of the list, I pledge that I will modify my tone listing in the correct sequence, however I need the source material to do it. Irregardless, they are the same tones no matter what sequence they are listed in.
I've recently had a request for the actual tone frequencies that correspond to the letter codes. So, here they are. These are QC1 tones, tone group "Z". C - 346.7 hz. D - 384.6 hz. E - 426.6 hz. F - 473.2 hz. G - 524.8 hz. H - 582.1 hz. J - 645.7 hz. K - 716.1 hz. L - 794.3 hz. M - 881.0 hz. N - 977.2 hz. P - 1084.0 hz.
You've probably figured out by now that I've got right click disabled to prevent easy downloading. You can listen to any of the tones you want on my page, and if you can figure out how to download them I'm not going try to stop you. If you don't want to go to the effort to capture all my files one by one (and you will be here for a while trying to get 200+ WAV files), I'd be glad to sell you a CD of all the actual tones used on this page in WAV format. The CD comes with a neat graphical interface which emulates a Motorola Centracom II console. I'm happy to offer this product to you for $11.70 each plus $5.30 to cover the production costs & shipping (I ship via USPS Priority Mail in the small video box). You can order the CD thru my Paypal account (elc32955@aol.com). I will offer the listed shipping rate as a fixed flat-rate price for shipping 1-5 CD's, if you want additional units please contact me for a separate quote. (NOTE - As of 10/1/2008 I've had to implement a price increase to compensate for increased USPS fees and cost of gas in this inflated economy.)
People have asked me "Why should I pay for something I can download for free?" Consider that this will help pay the costs associated with running my website, especially since I pay ALL the costs associated with this webspace myself. No popups, commercial sponsors, tracking cookies, or advertising here! Also, it took a lot of time & effort on my behalf to create this site for your entertainment. While it was a "fun" project, my ISP is telling me that eventually due to the volume of traffic on my sites I am going to eventually need my own separate server.
There are no restrictions on this data that I am aware of. Since this is an obsolete, discontinued paging system these tones are no longer in use in L.A. County. Please note I would never publish active frequency/tone lists on anyone's paging system!. This system is still actively used in the airline industry as "SELCAL", allowing individual call of airplanes by ground stations. Also I disclaim any liability for any inaccuracies found on this page, this information is based on archival records and is provided to you as it was provided to me. Remember these are the tones that were in use in 1997, some of the stations may have changed tones during the last twenty-five years the system was in use.
---
STATION TONES:
---
Station 1 (CPEK) | Station 2 (HKJP) | Station 3 (CPDK) | Station 4 (FJEG) | Station 5 (FJEH) | Station 6 (CPHK) | Station 7 (CPFK) | Station 8 (JPKN) | Station 9 (LPEK) | Station 10 (DPHK)| Station 11 (FJEK) | Station 12 (FJEL) | Station 14 (GPKN) | Station 15 (LPDK) (NOTE - old tones, later replaced with Sta 52's tones) | Station 16 (CPKN) | Station 17 (DPHK) | Station 18 (EPFK) | Station 19 (FJDM) | Station 20 (DPFK) | Station 21 (JPGK) | Station 22 (FPGK) (NOTE - This was the tone for "Engine 51" as used in the Emergency TV series) | Station 23 (LPFK) | Station 24 (LNEH) | Station 25 (GPHK) | Station 26 (FJEN) | Station 27 (JPEK) | Station 28 (LPGK) | Station 29 (GLEL) | Station 30 (HPKN) | Station 31 (DPKN) | Station 32 (GJEK) | Station 33 (EGFH) | Station 34 (EPDK) | Station 35 (FPHK) | Station 36 (FPJK) | Station 37 (EGHK) | Station 38 (JPFK) | Station 39 (EPKN) | Station 40 (LNEH) | Station 41 (EPHK) | Station 42 (GJEM) | Station 43 (GJEN) | Station 44 (GJEP) | Station 45 (DKLP) | Station 46 (GKFH) | Station 47 (LNEG) | Station 48 (JNEL) | Station 49 (HKNP) | Station 50 (LPHK) (NOTE - This was the tone for "Squad 51" as used in the Emergency TV series) | Station 51 (ELFH) (NOTE - Former Station 60 @ Universal Studios) | Station 52 (GPFK) | Station 53 (EPDK) | Station 54 (DPGJ) | Station 56 (GPKL) | Station 57 (GPDK) | Station 58 (DPEK) | Station 59 (DLHM) | Station 60 (ELFH) (NOTE - Now renamed to Station 51) | Station 61 (JNEP) | Station 62 (JPEG) | Station 63 (JPEM) | Station 64 (JPEN) | Station 65 (LPEH) | Station 66 (EGFJ) | Station 67 (ELHK) | Station 68 (ELHM) | Station 69 (ELHN) | Station 70 (ELHP) | Station 71 (FLEH) | Station 72 (LNHP) | Station 73 (EGHN) | Station 74 (EGHP) | Station 75 (GKEH) | Station 76 (EGHM) | Station 77 (GNEH) | Station 78 (GNFH) | Station 79 (GPHN) | Station 80 (GPHL) | Station 81 (GPEJ) | Station 82 (EHFJ) | Station 83 (FPEK) | Station 84 (GNHK) | Station 85 (EKFJ) | Station 86 (FKHM) | Station 87 (EMFJ) | Station 88 (FLHP) | Station 89 (DPEH) | Station 90 (ENFJ) | Station 91 (FJGP) | Station 92 (GNHP) | Station 94 (HPEK) | Station 95 (CPGK) | Station 96 (JPDK) | Station 97 (FJLN) | Station 98 (CLEH) | Station 99 (GLEH) | Station 101 (FLJP) | Station 102 (FJLP) | Station 103 (FLLN) | Station 105 (EPGK) | Station 106 (LNHM) | Station 107 (GPFH) | Station 110 (LPCH) | Station 111 (GKHP) | Station 115 (HPDK) | Station 116 (LPHN) | Station 117 (GJFH) | Station 118 (CJDL) | Station 119 (DJGL) | Station 120 (GJLP) | Station 121 (DJLN) | Station 122 (NPEK) | Station 123 (GJHN) | Station 124 (GJHP) | Station 125 (GLHK) | Station 127 (DLFH) | Station 141 (GLFJ) | Station 144 (GLHM) | Station 145 (GLJN) | Station 146 (GLJP) | Station 149 (ELFH) | Station 151 (JNFL) | Station 154 (CLFH) | Station 163 (CLHM) | Station 164 (CLHN) | Station 165 (CLHP)
---
OTHER TONES:
---
Camp 2 (JPLN) | Camp 8 (LNFH) | Camp 9 (GKHM) | Camp 11 (GKHN) | Camp 12 (GMEH) | Camp 13 (LNHK) | Camp 14 (GMFH) | Camp 15 (FLHN) | Camp 16 (FLHJ) | Camp 17 (JPLN) | Camp 19 (CLDK) | Barley (FLHK) | Heliport (LNHM) | VNC (LPFH) | Pacoima (DGEH)
---
GROUP CALLS:
---
LA 1 Group Call (HLHL) | LA 2 Group Call (PKPK) | Val. 1 Group Call (EJEJ) | Val. 2 Group Call (JLJL) | Val. 3 Group Call (KMKM) | A.V. 1 Group Call (HLHL) | A.V. 2 Group Call (GHGH)
---
MULTIPLE CALLS:
---
Multiple calls | Multiple calls 2 | Multiple calls 3 | Multiple calls 4 | Multiple calls 5 | Multiple calls 6 | ALL station tones! (WARNING - Large file, 18 megs!)
---
ALERT TONES:
---
Steady Alert Tone | 3 pulses - Alert Tone |
---
STANDARD ZETRON ALERT TONES (From Model 25 encoder - used from 1980's to 1997):
---
Fast pulse, 1000 hz | Slow warble | Fast warble, similar to old Plectron "Alarm" tone | Two tone Hi-Lo | Four tone, low to high | Plectron "Alarm" tone

(NOTE - The Plectron "Alarm" warble is here for comparison purposes to the Zetron fast warble only.)
---