!Copyright 1997 Inter-Active Arts><!All Rights Reserved>
PRE-OWNED POLICE VEHICLES FOR SALE!!
---
I consign vehicles for two companies through my website, Florida Movie Cars and Aunt Mary's Auto Sales. A little information on the companies:
1. Florida Movie Cars is a supplier of vehicles for both Disney and Universal Studios in Florida, having supplied vehicles and props for both television and movie production. Dan Akroyd drove one of FMC's 1974 Dodge Monaco "Bluesmobiles" at the opening of the Orlando House of Blues in 2000, FMC has the pictures and the signed dashboard to prove it!! FMC has also had in past inventory three AUTHENTIC Ford LTD Crown Victoria sedans purchased from the production company that provided vehicles for the production of "Blues Brothers 2000". If you've been to "The Experience" at the Daytona International Speedway, the Bluesmobile that was showcased in the museum was one of FMC's cars!!
2. Aunt Mary's Auto Sales is a licensed Florida Automobile Dealer that has been in business for over fifteen years. Specializing in Fleet and Special Service vehicles, Aunt Mary's is a turnkey dealership from acquisition to reconditioning to seeing the customer through the sale process to contracting delivery for our out of state & overseas customers. Typical vehicles in the ever-changing Aunt Mary's inventory include Ford Crown Victoria Police Interceptors, Chevrolet Caprice 9C1 police vehicles, Chevrolet Impala police vehicles, Chevrolet Lumina police vehicles, Chevrolet Tahoe police vehicles, Dodge Intrepid police vehicles, and other types including antique police cars, ambulances, and fire trucks. Please inquire if there is a specific vehicle you are looking for as the pictures on this website are only a small representative sample of the complete inventory.
Below please find some information and pictures on the general types of vehicles listed for sale. If you are interested in further details, please contact us via EMAIL and we will have a sales representative contact you promptly with additional information. We do have contacts for shipping vehicles for our overseas customers and are always willing to "go the extra mile" to insure our customers are happy in their vehicle purchases.

IMPORTANT NOTE - 10/01/08. We have temporarily suspended vehicle sales via the Internet due to the uncertainties in the current market with regards to obtaining loans & financing, scammers, and general economic conditions. The vehicles pictured here are just a representative sample of types contained in our average inventory. We will resume Internet sales and will be updating the site & pictures when conditions permit. Thanks for your interest and we apologize for being unable to fill your requirements at this time.
---
UPDATED 10/01/2008
Ford Crown Victoria Police Interceptors!!
I am posting some representative pictures of vehicles from our former inventory for your viewing. Please note that these pictures represent PREVIOUS STOCK and are NOT in our current inventory.
TAHOES, TAHOES, TAHOES!!
The 1999 Chevrolet Tahoes are now sold out. Here's some representative pictures of a vehicle we did have in inventory, this vehicle was formerly employed with the NY State Troopers....
AMBULANCES
We do from time to time have ambulances and EMS vehicles available. Here's a picture of one of our previously stocked vehicles: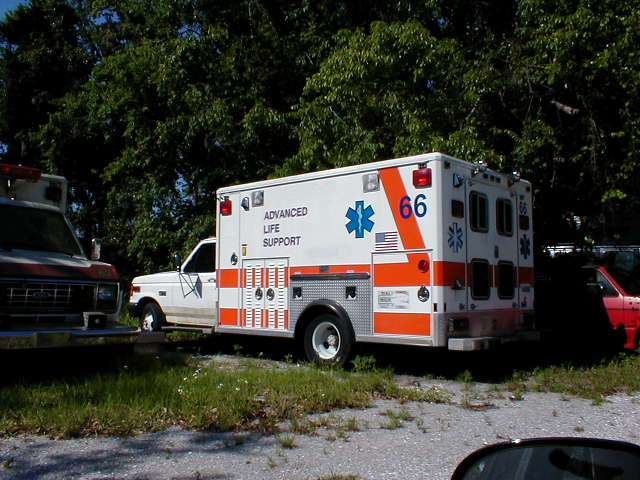 OTHER VEHICLES.....
In the near future we anticipate to have Chevrolet TrailBlazers available as well as additional Crown Victorias, Chevrolet 9C1 Impalas (2000 & up), and additional Chevrolet Tahoes!! Please watch the site for notice of resumption of our Internet sales!!
---
Web Pages Created By: Inter-Active Arts
---