10. 1995 Chevrolet Caprice 9C1 5.7l. According to the build sheet, this car was built on 4/2/1995. It was assigned schedule/job number A5093031. The date/time print indicates 23:44 hours (11:44 PM) so let's hope the midnight shift people at Arlington were happy and awake!! If you want to look at the GM police car sales brochure for the 1995's, here it is: 1995 9C1 brochure


This vehicle was delivered to the Virginia State Police, where it was assigned VSP identification number 95-222. I was finally able to speak with the Fleet Manager for VSP to obtain somewhat of a history on the vehicle, he advised me that the vehicle had been assigned to two separate troopers during its service with VSP, one in the Williamsburg area, one in the Bowling Green area. VSP destroys their maintenance records after the vehicles are sold, so I will not be able to obtain much formal documentation on the vehicle's maintenance history other then to have a dealer "stat" the VIN number one day to obtain service information in the GM computer system. This car was sold at auction by the State of Virginia in 1999 to a taxicab buyer in New York State who purchases large quantities of cars at auction. You know, the kind of company that thinks nothing about whipping out a check for a quarter-million dollars or more for eighty cars in one sale! On a government salary, I can only dream of those days...

In early 2000 my car was consigned to a auto dealer (friend of mine) in Mims, Florida called Aunt Mary's Auto Sales. I purchased the car for $5,995 in March, 2000. It was obvious from the running condition of the car when I received it that it had set on a lot for a period of time, however the motor was very strong and it had obviously been well cared for in its previous service life at VSP. As far as prep work, I completely cleaned out the interior, siliconed all the old radio holes, removed the seats & carpet set & had them cleaned (ended up with newer front seats anyway), pulled out around 47 lbs of dog hair, removed the old nasty window tint, replaced a few plastic trim pieces, and replaced the bezel over the instrument cluster with a new one (gives the dash a brand new look). I also removed the old VSP wig-wag kit and about a mile or so of excess wiring that went to equipment that had been previously removed, cleaned the headliner, etc...

This is my car in its current configuration when sold. When I started to mod the car, I was not going after another "SS clone" look. This vehicle is a daily driver and I've always been more interested in performance then looks, although since I've been going to car shows I'm starting to put more work in on the car body. As you can see I have only slightly modified the exterior appearance. I discovered my Caprice grille was cracked so I replaced it with an SS grille painted to match. The "Medium Adriatic Blue Clearcoat" paint on this car is a bear to match, one day I will do a whole vehicle repaint and then it will all be 100%. I pulled the side moldings when the silver color started to die & fade. Personally I think the car looks better without moldings on the sides, although everytime I see a door opening next to my car I cringe a little... Also VSP didn't run trim rings on its 9C1 wheels (originally this car had the full police wheel covers), however I saw a FHP car that had the chrome trim rings that looked extra sharp, so I purchased a new set of four from a dealer on EBAY at a very good price compared to dealership costs. The trim rings really make the old police wheels look good combined with a coat or two of black paint!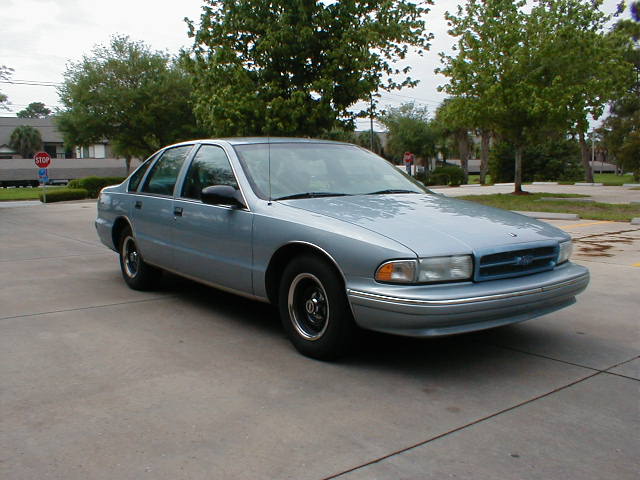 My car from the rear. As you see I have two antennas on the car, one 800 MHZ Larsen Kulrod on top, one Motorola-style UHF on the trunk. These are not for show. I have a M/A-Com M-RK vehicle console in the car, since I did communications work for the county government I needed radio capability in the vehicle. VSP was kind enough to leave me two holes for antennas which I promptly filled. I put a CB antenna on the rear mount when I go on vacation out of state, it's interesting listening to traffic trying to figure out who the "plain blue wrapper" is passing them! This car looks like a sleeper unless you look realllly close at my dual exhausts... then you MIGHT get a idea there is something more under the hood then meets the eye! I don't usually subject my car to full-throttle starts and screeching tires, however I do like the extra horsepower that is most definitely available if needed!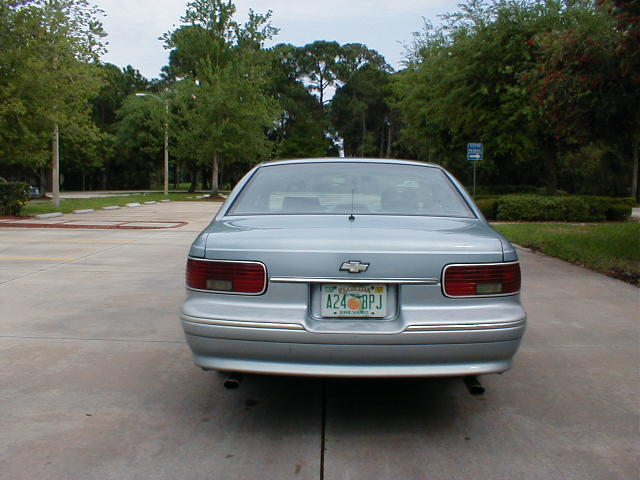 The motor shot. Few things to notice, check out the Federal Model 58 "Traffic Blaster" under the hood where the stock airbox usually goes. It's twelve times louder then a regular car horn, Federal Signal sells these to Fire and EMS services that need airhorns but don't have an air system on the vehicle. It's LOUD and I love it! The stock airbox had to go for Traffic Blaster to be installed, so the Ram Air kit (SSRI Stage One) was installed. The larger volume intake helps performance a whole lot! You really can't see the Clear Image Tri-Y long tube headers, since they are long tubes they hang down from the exhaust manifold area. This also means both my valve covers are perfectly able to be removed if needed! The green hoses are the silicone radiator and heater hoses. GM swears they are good for the life expectency of the car (300,000 miles for the motor before overhaul). Also I've done the AIR delete as per the factory TSB. In addition, check out the Corvette L98 magnesium valve covers and the small CS-130 style 180-amp alternator! Also I had the "Stealth Bolt" mod installed courtesy of the good members of GoFaSSt, added a "Be-Cool" aluminum radiator, put in a new Opti, installed new axle shafts in the rear, put new police brakes on all the way around (pads & rotors), installed a new set of four Bilstein shocks from Shox.Com, and installed a Transgo shift kit in my tranny. The 1st to 2nd shift will now knock you into the back seat! Nothing like a good stiff performance shift!!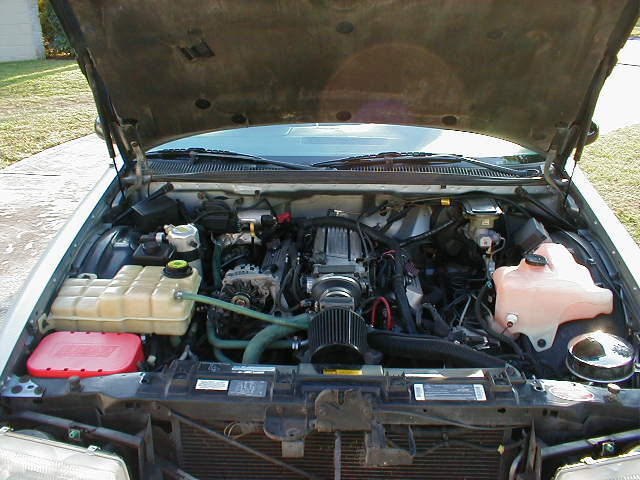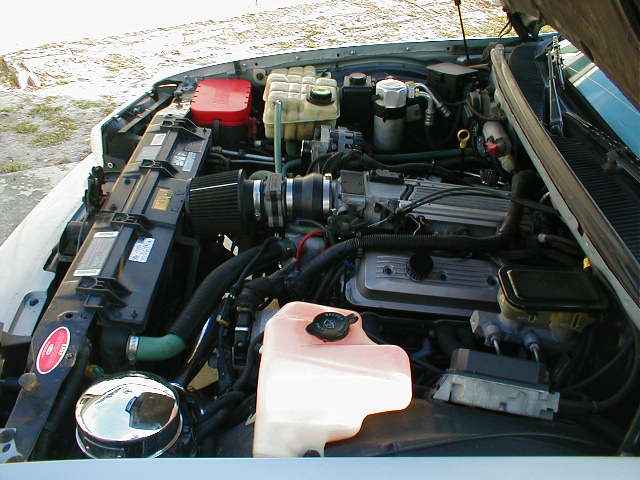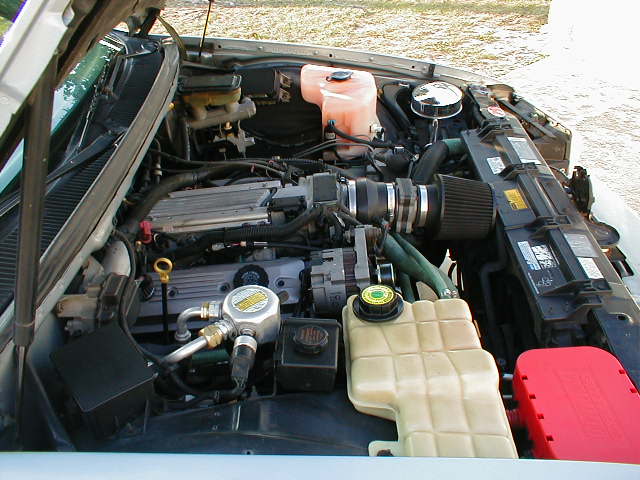 Dashboard shot. This was taken on Interstate 95 one day when there wasn't much traffic around. Note the vacuum gauge and tachometer below the cluster. This is a nice mod to install and it's fairly easy to do in an afternoon. I've put a few more miles on since this picture was taken though... A few other neat things about this car, it came with tilt steering, factory cruise control (almost unheard of in other 9C1's I've seen), and no spotlight. This was apparently always an unmarked unit.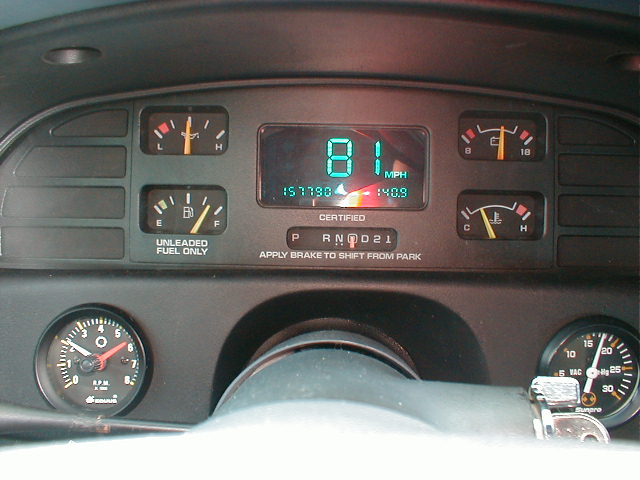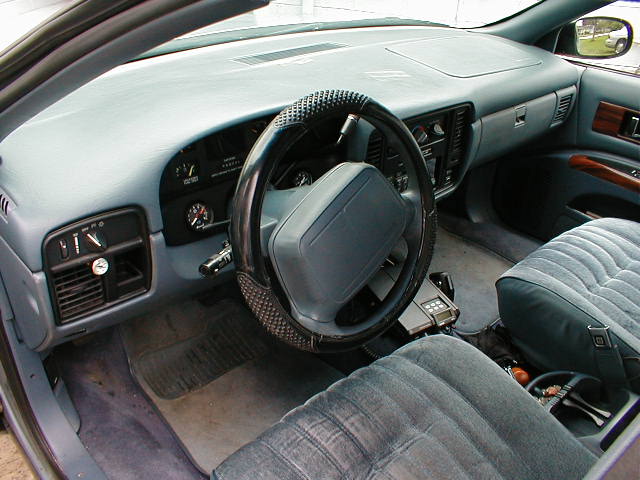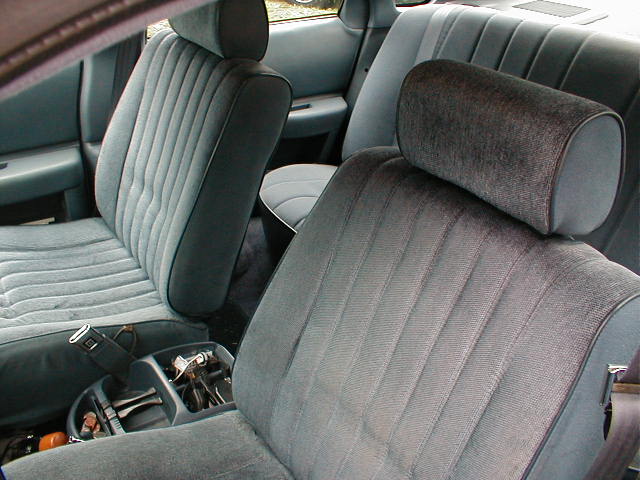 Other modifications I installed on this car were the LTZ hood emblem (in place of the regular chrome bowtie ornament), Dual Trunk Light with cutoff switch (really lights up the trunk nicely, VSP was kind enough to leave the cutoff switch in), 160 degree thermostat, Tri-Y long tube headers from Clear Image Automotive, Random Technology high-flow converters, dual Flowmaster mufflers (this car has full duals all the way back as do all 9C1's), custom PCM programming which assists with firmer shifts, higher RPM for shift points, lower fan cut-in temperatures, and other desirable modifications to assist with performance. I also removed the old factory 130MPH speed limiter (cuts the fuel pressure at 130 and puts it back at 126, it's option VZ2 on the factory brochure) and advanced the timing along with a few other mods for better performance in the power range. I installed all MSD 8.5mm plug & coil wires, installed the MSD Blaster II coil, put a new Optima Redtop battery in, changed the knock module in the PCM to the LT4 module (necessary if you have headers to reduce false knock sense by the stock module), upgraded to the premium factory AM/FM/Cassette stereo (same as stock Impala SS units), installed newer 9C1 buckets in the front to replace the old worn-out seats that came with the vehicle, and relocated the police trunk switch. This car also has the "sneaky switch" that cuts off all gauge illumination (i.e. no speedo, odometer, or radio display) that's useful for driving around in the dead of night. Also I did a group purchase from No Limits Motorsports and had 3.73 gears installed in my rear with an Eaton Posi! Definite difference, although the increased noise from the exhaust due to the RPM's (80 MPH is now 2700 RPM) makes me want to keep it at 75 or lower on the interstate... Lot of new low-end torque though, the entire range from 0-70 is now well within the power band!

Tunercat codes I used for my speedo calibration (with 225/70/15 tires and 3.73 rear) are Speedo Scalar - 29 Speedo Scalar Fraction - 1.004 Speedo Scalar Scantool - 48.133 Time between pulses for stop - 31.163 Pulses per revolution - 40.
RPO & PROCESS CODES
BUILD SHEET: The build sheet is usually placed under the passenger side front seat by the factory at completion of the vehicle. This sheet contains a lot of information, but much of it is un-decodable. If you want to see for yourself, here it is: My build sheet

SERVICE PARTS IDENTIFICATION LABEL: The following codes came from the build label on the underside of the trunk lid. Every GM vehicle has one of these, it contains all the RPO and special option codes to show how the vehicle is put together. My car has the following codes: AA7 AK5 ARL AS7 A75 A76 B34 BZ4 C49 C60 DE3 DL5 EGW FE9 FLI GU4 IHE JA9 KD1 KG9 K34 LT1 MX0 M30 NA5 N10 N30 N40 N81 N97 PQ3 R42 R6D R7A UM7 VQ0 UQ1 U11 U73 VK3 VM3 VQ2 VZ2 V03 WU1 YK6 1AA 1K5 15A 1T1 1Z2 30E 30I 36Q 36U 5AQ 6A2 6A4 6C7 6H7 6SB 6Y5 7B3 7L9 7P8 7SC 7Z5 8HJ 9C1 9HJ

This is a picture that I took during a trip to Key West in 2003. I managed to get a picture of my car at the official "Southernmost point" in the continential US! Here it is for all to enjoy...